A company started to help Hotel Owners understands the complex systems & methods to manage a Hotel profitably. This company was started in the year 1990 with 3 staff. Today we have more than 400 staffs working under our directions at different locations, we are also associated with some of the biggest names in South India. The staffs trained by us are now in many part of the world working as top Managers, and some of them have become Owners who still consult us.
The Company has many divisions to handle the projects right from Project Planning / Designing, Project Co-ordination, Blue Print analyzing & modifying to suite the project, and to Commissioning and Operating the Hotels/Restaurants.
We also undertake the commissioning, Pre opening, Staff selection, Training the Owners, Staff & Trainers, Setting up various systems to operate the Hotels. Helping in turning around sick units.
Our team of professionals have worked in various levels and are from the Industry. We believe in a team work & try to help staff in your units to better themselves & reach the top with proper guidance & Training! TRAINING, TRAINING & TRAINING THE TRAINERS has helped us achieve the status that we currently hold.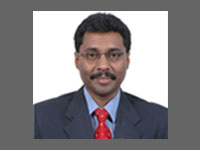 Mr. Venkatesh Reddy
(Founder and MD)
A product of Indian Institute of Hotel Management & Catering Technology, Chennai. He was trained to be a chef from ITDC(Indian Tourism Development Corporation) at Delhi. He further got trained by HCI(Hotel Corporation of India), Bombay as a Management Trainee. Along with this, he has done courses in Interior designing, Draftsmanship . He has worked in many leading Hotels in Delhi, Bombay, Chennai and Hyderabad.
Our founder's belief is that anyone can start, operate and make profits if guided professionally and is WILLING TO IMPLEMENT WHAT IS TAUGHT.